Barrett Environmental Limited was established in 1991 and became a Limited Company in 2005.  We specialise in ecological work associated with habitats and protected species including bats, great crested newts, badgers, otters, water voles and white-clawed crayfish.
We employ a highly experienced team from a variety of backgrounds and disciplines which enables us to approach project challenges in a holistic manner.   Staff are encouraged to become members of the Chartered Institute of Ecology and Environmental Management (CIEEM) and the Society for the Environment (CEnv).
Our clients range from individual property owners seeking planning consent to large corporations and the public sector services who use our expertise to help deliver corporate strategies and responsibilities towards biodiversity and the environment. You can view their testimonials here.
Key Personnel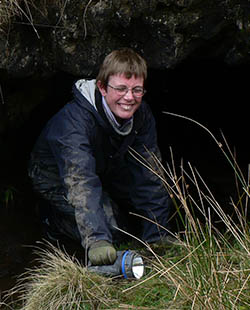 Trina Barrett
Ecologist and Director
(MSc, CEnv, MCIEEM)
Trina has over 30 years of experience as an ecologist and has worked for Barrett Environmental since its inception.
She studied at University College, Swansea, where she gained a BSc (hons) in Zoology and furthered her academic career at Durham University, where she was awarded an MSc by thesis. Trina is also a qualified bird ringing trainer and holds an 'A' class permit.
She has a wealth of knowledge on protected species, and holds Natural England licences for bats, great crested newts and white-clawed crayfish, as well as being fully qualified in tree climbing.
In her spare time, Trina enjoys photography, bird watching and bird ringing, moth trapping, gardening and walking.
She is an active member of Durham Bat Group, the British Trust for Ornithology, the Bat Conservation Trust and Butterfly Conservation.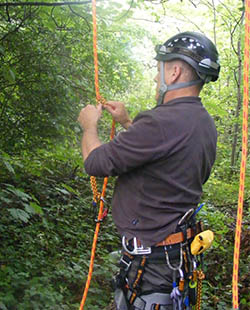 David Long
Ecologist and Director
(MSc, CEnv, MCIEEM)
David joined Barrett Environmental in 2005. He's an experienced ecologist and specialises in project management, with a particular interest in historic buildings. He was previously a Wetlands Biodiversity Officer and has also worked as a Senior Countryside Ranger and as a Land Surveyor both in the UK and abroad.
David studied a Higher National Diploma in Rural Resources and Management from Seale Hayne Agricultural College in Devon and then went on to gain an MSc in Environmental Management at Sunderland University, where he was awarded a distinction.
He holds Natural England licences for bats and great crested newts and is a very experienced surveyor for diverse range of habitats and species.  David has a background in practical countryside management and holds a variety of relevant qualifications. He is also fully qualified in tree climbing.
In his spare time, David enjoys walking, natural history,sea kayaking and other watersports and is currently learning ballroom dancing where the rhumba is a firm favorite!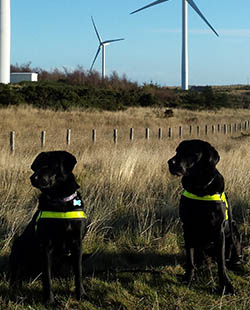 Scent-detection dogs
We currently have two scent-detection dogs trained to find bat carcasses.  Additional protected species will be added to the list of species and more dogs are also to be trained. Scent detection dogs are mostly used to assess bat and bird mortalities from developments such as windfarms.